Checkout our latest news!
FuseBox Circuit Protection
FuseBox have taken the circuit protection market by storm in recent years and are now available at unbeatable prices.
They design and manufacture circuit protection devices, consumer units, low voltage electrical products and accessories. Energy Electrical Distributors are approved franchise stockists for Reading, Wokingham and Bracknell areas.
Why wait next day when we can deliver same day at internet prices. Visit our trade counter in Woodley or contact the team for details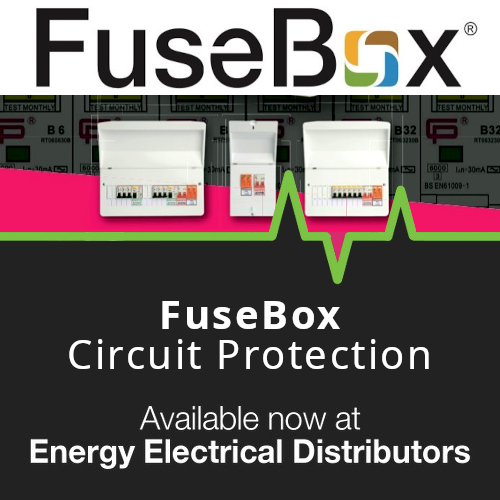 JCC Lighting
Established in 1989, JCC are market leaders in the development of cutting edge LED lighting technology including the gold standard in LED panel design, Skytile.
They are driven by their passion to create innovative LED lighting solutions. This ensures that their customers can take advantage of the benefits that the latest LED technology can provide for both domestic, commercial and industrial applications.
They believe that LED lighting is the most effective way that homes and businesses can tackle rising energy costs and the global need to reduce CO2 consumption.
LED technology provides JCC with the opportunity to readdress traditional lighting and create innovative solutions that can improve installation times, enrich our homes, increase productivity within the workplace and enhance safety across all environments.

Ledvance Smart
Smart solutions in residential applications are a huge trend. An increasing number of private customers would like to integrate Smart Home Automation functions in their living area. Right at the top of your their wishlist: smart lighting. Light that adapts to individual usage behaviour and that can be flexibly and mobile controlled – even on the move.
The new Professional Smart for Residential portfolio from LEDVANCE offers the comprehensive combination of innovation, quality, reliability and user friendliness. We provide a suitable solution for a wide range of different needs for smart lighting.

Rolec Electric Vehicle Charging Stations
Rolec EV is a division of Rolec Services, specialising in the design and manufacture of a comprehensive range of electric vehicle (EV) charging solutions – offering quality products at competitive prices.
From the entry level, low cost WallPod: EV Ready unit, through to the sophisticated EV ControlCentre, Rolec EV has a full range to suit every location and budget. The Rolec EV product range is designed and built to be flexible and compatible with all leading motor manufacturers' EVs and their communication protocols, including all types and modes of charging. As the actual manufacturer of this range, Rolec EV is able to personalise their charging range to suit individual client requirements, specifications and branding.

Nest Hello Smart Doorbell
The doorbell you've been waiting for.
Nest Hello lets you know who's there, so you'll never miss a thing. It replaces your existing wired doorbell, and delivers HD video and bright, crisp images, even at night. It's designed to show you everything on your doorstep – people head to toe or parcels on the ground. And with 24/7 streaming, you can check in at any time. Or go back and look at a 3-hour snapshot history to see what happened.
Come down to our trade counter to discuss the Nest Hello and other smart devices from the Nest range.

A spotlight on LED lighting.
LEDs are a simple invention with a massive potential and over the past decade or so have had a huge impact on the lighting industry. Don't know much about them? Then read on…
What Does LED Stand For?
LED stands for light-emitting diode.
LEDs are the most advanced and energy efficient light source available today.
Whilst the base technology behind LEDs is many decades old, it is constantly improving in terms of cost, colour and brightness. LED gives off very little heat and last many times more than the next closest light source. Many LED products are designed to last as long as 50,000 hours – If you use your lights for 10 hours a day, this should be nearly 14 years!
Incredible longevity means that you might never change another light again and is also a clear win for the environment.
If you'd like to know more about our LED Lighting, or any of our other products simply get in touch!